Several handmade cottages are dispersed in a wild garden along Wasini's coast line. Special care has been taken to leave the environment as untouched as possible and the bush stretches right into the rocky compound situated beyond the outskirts of the main village.
The owners' love for nature clearly shows in the eco-conscious construction of the cottages. Mainly local material from the island has been used; rough stones and shells make up the walls and the mangrove roof constructions are covered with palm shingles.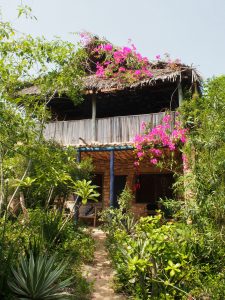 A solar installation caters for lighting. Phones and cameras can be charged but high-energy consuming devices such as  electric cooler boxes exceed its capacity.
Since there is no ground water on the island and its inhabitants have to entirely rely on rainwater collected in communal cisterns, the cottages are equipped with water saving bucket showers and eco-urine-toilets. In addition, each cottage has its private conventional flush toilet (using sea water) in a nearby bathhouse.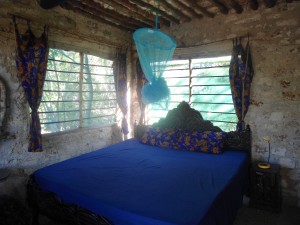 Each cottage is set apart and has great views of the sea.
Cottages are equipped with a king-size double bed and some with an additional single bed (incl. mosquito nets).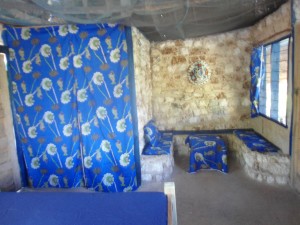 Blue Monkey Beach Cottages also have a sitting area as well as  a spacious terrace, some including cooking  area for those who prefer self-catering (on request).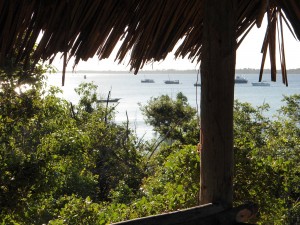 Delicious Swahili seafood dishes,  vegan meals as well as light lunches are served on a treetop terrace with great views of the sea.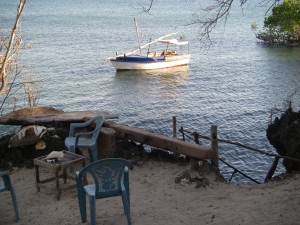 Blue Monkey Beach Cottages have a private sand beach on the cliff, a tidal pool & wooden jetty .
A smaller Arab Dhow is available for private sailing trips.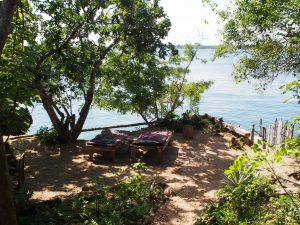 Egrets, herons, sea eagles, storks and other sea birds are feeding in the swash zone and can be watched from the comfort of chairs set in the shade of indigenous trees.
You should not be surprised to encounter a lot of blue monkeys, cats, chameleons, monitor lizards, tortoises – and a variety of birds.
Price per Cottage:
3 persons: 1900 KSH per person
2 persons: 2250 KSH per person
1 person:   3600 KSH per person
For a  family or group, our Banda Mlimani might also be an interesting option.
Discounts granted upon booking*:
Stay 7 nights only pay 5.
On request, volunteers & larger groups are granted a discount.
*: discounts are not cumulative. They are not applicable for 1-night or weekend stays,  in the months of July/Aug/Dec/Jan, & in periods including a secular or religious holiday.
Deposits are non-refundable and payable on our Mpesa mobile account only (by e.g. Mpesa/Wise.com).
In accordance with local traditions, no alcoholic drinks are sold on the island. For a responsible consumption, you are welcome to bring your own.
Payment by cash only – BOOKING REQUESTED – NO WALK-INS!
Check in:    from 12.00 pm till 06.00 pm
Check out: from 05.30 am till 10.00 am
For more info and booking contact directly the owners at: wasiniguide@hotmail.com
For guest reviews of Blue Monkey Beach Cottages Wasini, please click on the Tripadvisor Widget in the right side bar further up.