Banda Mlimani Wasini is as special as specialty lodging can get! An abode made for the seeker of pure adventure and true experience of the African nature.
In Banda Mlimani you dwell just some sticks and a net away from the buzzing nature and the crashing Indian Ocean waves. Don't expect brick walls or glass windows – there are none around here!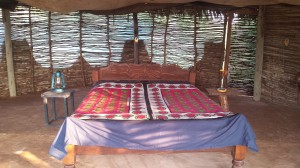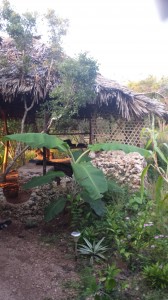 The beach hut (= banda in Swahili) is located on a small hill (= mlimani) just a few meters away from the cliffs. It is surrounded by wild indigenous bush vegetation as well as flame trees, frangipani, bougainvillea, and banana trees.
Prepare yourself to meet land crabs, blue monkeys, cats, monitor lizards, all kind of birds incl. sea eagles, chicken, great hornbills, and ibises- and if you are very lucky, you might even spot one of the shy local antelopes called duikers!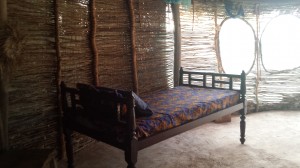 Banda Mlimani is equipped with a hand carved Swahili king size double bed and two standard  single beds, and one large single bed (incl. mosquito nets)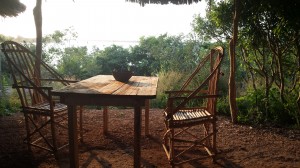 Right adjacent is a spacious private furnished outside area with a great sea view. There is a local kitchen incl. gas cooker (on request).
Attached to the beach hut is a small bathroom with an eco-urine-toilet and a shower (fresh water bucket shower). In a distance, there is a separate bathhouse with a private conventional flush toilet (sea water) and an additional eco-shower. The island has no fresh ground water and relies entirely on rain water collected in cisterns. Consequently, fresh water is a scarce commodity and has to be used in moderation.
Wasini is not connected to the national power grid. Banda Mlimani is equipped with a small solar installation. Besides lighting, it provides energy 24/7 for your small electronic devices such as phones and cameras – high energy consuming equipment such as e-cooler boxes exceed its capacity.
The beach hut shares a large compound, a treetop dining area, a private sand beach on the cliff, a wooden boat jetty, and a tidal pool with Blue Monkey Beach Cottages. A maximum of 7 other guests guarantees peace and privacy for everyone.
Rates Banda Mlimani per night:
2 persons Ksh 4800
3 persons Ksh 5400
4 persons Ksh 5900
5 persons Ksh 6300
Extra charge for self-caterers – subject to prior booking*:                 KSH 200 per day * days booked = due amount
*: gas burner/dish soap/towels/cooking tools/tableware)
Discounts granted upon booking*:
Stay 5 nights but only pay for 4, stay 7 nights only pay 5.
*: discounts are not cumulative. They are not applicable in July/Aug/Dec/Jan, or in periods which include a secular or religious holiday.
Deposits are non-refundable and payable on our Mpesa mobile account only (by e.g. Mpesa/Wise.com).
In accordance with local traditions, no alcoholic drinks are sold on the island. For a responsible consumption, you are welcome to bring your own.
Payment by cash only – BOOKING REQUESTED – NO WALK-INS!
Check in:     12.00 pm – 06.30 pm
Check out: 05.30 am – 10.00 am
For more info and booking contact directly the owners at: wasiniguide@hotmail.com